Tickets $20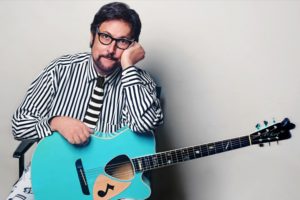 Stephen Bishop is a world-class guitarist, vocalist, and songwriter with a celebrated career of over four decades. His attraction to the music industry began at age 13, after seeing the Beatles perform on "The Ed Sullivan Show."
Stephen ventured to Los Angeles in the hopes of landing a songwriting contract. A friend connected him with Art Garfunkel, and Art recorded two of Stephen's songs on his album, Breakaway.
Shortly thereafter, Stephen was signed to ABC Records.  His first album, Careless, produced the hits, "On and On," and "Save It For a Rainy Day."  His song, "It Might Be You," was the theme to the film, "Tootsie."  Stephen has been nominated for two Grammys and garnered an Oscar nomination. In Eric Clapton's autobiography, he mentions Stephen Bishop as one of his favorite songwriters.  His latest album is Blueprint.
Fun fact: Stephen appeared as the "Charming Guitar Player," in Animal House. In the toga party scene, John Belushi slams Stephen's guitar to smithereens.