FREE ADMISSION!
1-3PM @ GREEN WOOD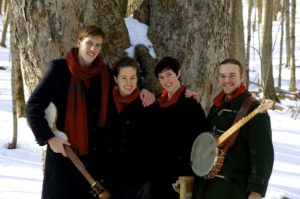 Listen to, learn, and sing a capella harmony vocal technique in this two-hour session with acclaimed quartet, Windborne. Free admission.
Windborne is Lynn Mahoney Rowan, Will Thomas Rowan, Lauren Breunig, and Jeremy Carter-Gordon. Specializing in close harmony singing, the quartet has a vibrant energy and a strong connection, which is evident in their engaging performance. They educate as they perform, telling stories about the music and explaining the characteristics and stylistic elements of the traditions in which they sing. The four Windborne singers grew up immersed in the traditional song and dance communities of New England and discovered a love of world folk music in their teens. Over the past decade, Windborne has sought out masters of traditional singing styles in the US and around the world to study a variety of vocal music. Through these collaborations, they have developed the vocal agility and authentic sound for which they are known. Their dynamic concert programs include songs from Corsica, the Republic of Georgia, Bulgaria, Quebec, and Basque country, as well as traditional and original American folk music. They believe deeply in the power of music to change hearts.
Windborne will provide special music in the Sat 5pm service on Nov 9. Come as you are; everyone welcome.