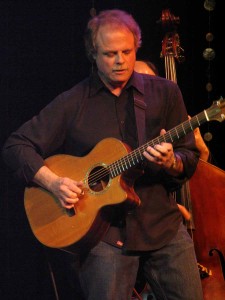 Pat Donohue
Tickets $15 
Grammy winner Pat Donohue is one of the most popular finger pickers in the world. His musical tastes are eclectic. Though he considers himself foremost a folk guitarist, Pat's influences are rooted in bluesmen Blind Blake, Robert Johnson, Duke Ellington, Muddy Waters and Miles Davis.
Having been a songwriter and guitarist for twenty years for the "Guys All Star Shoe Band" of Minnesota Public Radio's "A Prairie Home Companion," Pat got to show off his savvy licks and distinctive original songs to millions of listeners each week. After wrapping up this impressive longterm gig, Pat now turns to full time concert touring, presenting master guitar workshops and attending prestigious music camps.
Heywood Banks
Heywood Banks is simply one-of-a-kind, almost impossible to describe, with a style his very own. Equal parts genius and buffoon, this songwriter-comic-singer-poet-musician has become a cult hero and a pop icon, with a show that appeals to college students, stoners, businessmen, yuppies, rednecks, punks, kids or your grandmother.
Heywood intersperses his humorous observations of life with twisted, inventive, bizarre songs, sung and played in a variety of styles, from folk, to country to rock to pop, and way beyond.